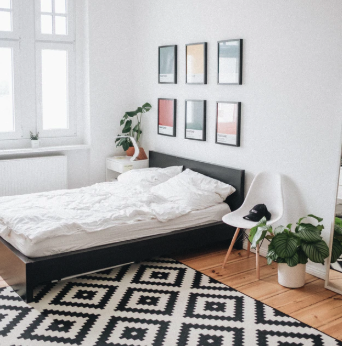 If you're out bed-shopping, your first instinct is to think "the bigger the better." And that can be true. There's really nothing like a king-sized bed to roll and stretch around on. Even if it's just you, waking up on an enormous mattress just seems to guarantee a good day ahead. But… yes, as much as we are loathed to admit it, a bed can be too big to align well with your other furniture. Before you go bed shopping, here are a few things you'll want to do:
Your Bed Shopping Checklist
Measure your bedroom. It is unlikely that you'll be able to even find a bed too big to fit, but you'll want to consider other furniture, air vents, and how much floor space you want. Some of us need a little space to move around. Others don't care if the bed stretches over every inch of the room and we have to step right out into the hallway when we wake up in the morning.
You don't need to take your tape measure with you to the furniture store to make sure your bed will fit. Beds come in a number of standard sizes:

Twin – 38" x 75"
Twin XL 38" x 80"
Full – 53" x 75"
Queen – 60" x 80"
King 76" x 80"
California King 72" x 84"

You can find some great deals by shopping online, but it's a good idea to at least take a look at some beds in person to get an idea of what size you're going to be comfortable with.
If you're still shopping around not only for the bed, but for the Austin, Texas apartment to put it in, get in touch with us at the Madison at Stone Creek for available floor plans!