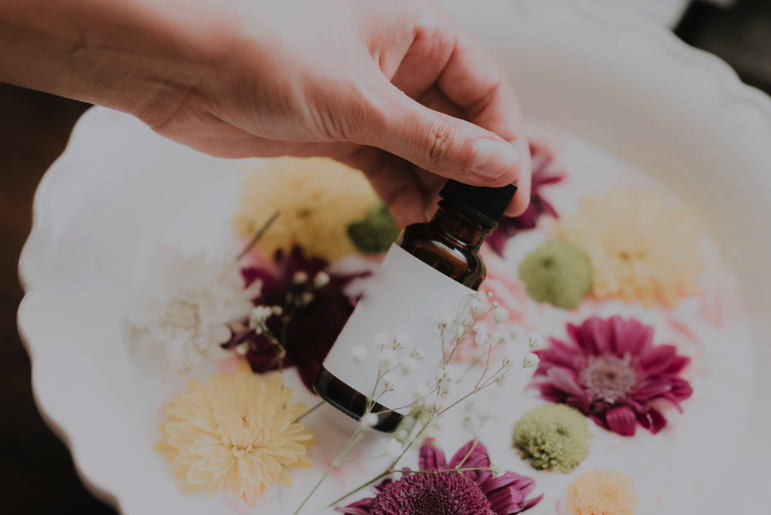 Autumn is the time to replace your summer essential oil scents for those that are more woodsy, warming, and have deeper base notes. Top note oils tend to light and fresh smelling — such as orange, lemon, and spearmint. Middle note oils tend to have a mellowing effect and usually include soft, fragrant oils such as chamomile, nutmeg, and Juniper. Base note oils have a heavy fragrance and tend to linger in the air longer.
Popular Base Note Oils for Autumn
Cedarwood
Vanilla
Patchouli
Clove
Cinnamon (middle to base)
Vetiver
Frankincense
Ylang Ylang (to middle)
Rose
Create Your Own Signature Fall Oil Blend
Your custom essential oil blend can certainly include all the fragrant notes from light and citrusy to the heavier base notes listed above. The key to creating your own fall scent when using base notes is to allow one or two drops at a time to prevent the base scent from overpowering your top and middle scents. Also, you may want to keep the number of oils you blend limited to just a few.
For instance, you can create a nice, spiced cider blend with a few drops each of wild orange, cinnamon and ginger. If you desire a woodsy scent for your home, consider cypress, white fir, and sandalwood blended to suit. And for that lighter, fragrant fall smell, use a bit of your citrusy, top notes from the summer to create a signature fall blend that is uplifting and warming — orange sweet oil, lime oil, and cinnamon bark is a great combination to try.
Spicy Chai:
3 drops cardamom
2 drops cassia
2 drops clove
1 drop ginger
Fall Rain
1 drop Lavender
2 drop Bergamot
3 drops Clary Sage
Crisp and Clear Blend
1 drop Patchouli
1 drop Sandalwood
2 drops Citrus Fresh
2 drops Ylang Ylang
The best way to diffuse your essential oils is with a cool mister that quietly sends micro-bursts of scented water mist into the air. Toxic candles, store-bought, chemical scents, and aerosol home fragrances are out. Use the power of nature and have fun experimenting with different essential oils until you find your favorites. High-quality essential oils are also packed with the medicinal power of plants — able to improve breathing, support the immune system, and fight bacteria and viruses.
We hope this tutorial on creating your signature essential oil blends will be used to scent your Austin, TX home apartment, Madison at Stone Creek. You will be sure to enjoy our nine-feet vaulted ceilings, all-electric kitchens, and attached or in-line garage spaces.