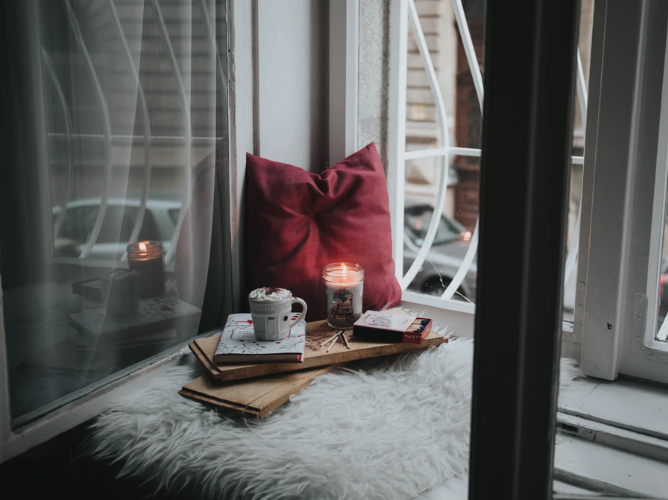 Spending a half-hour meditating each day is great for recharging, especially now that the busy holiday season is fast approaching. But often meditation gets pushed to the back burner. One way to inspire a meditation practice is to create a dedicated spot for introspection. Here are a few ideas to make an area of your home a haven for relaxation.
Set the Stage
Because it's easy to get distracted while meditating, it's helpful to create an out-of-the-way nook that's clutter-free. There's no need to go all-out and face a blank wall like a Zen monk, but a minimalist setting in subdued colors, such as pale blue or caramel brown, is best. Arrange a comfortable place to sit, either with a soft-backed chair or a floor cushion. A throw rug can help define your meditation area. You can even cordon off the space with a room divider or by hanging a sheer curtain for a serene, cocoon-like effect.
Block Noise
A car horn or other obtrusive noise can zap you right out of a peaceful meditative state, but there's an easy solution: Put a sound machine in your meditation space or download an app to help block unwanted noise. Calming white noise is a good choice, or go with the sound of ocean waves or rainfall to invoke relaxation.
Variable Lighting
If you meditate during the day, natural light filtered with sheer curtains can create a soothing ambiance. For a nighttime practice, candlelight or a lamp that casts soft light, preferably that you can control with a dimmer switch, is ideal. You may want to turn the lights up a bit while meditating to help keep you alert and focused.
Add Inspirational Decor
A small statue in your meditation area can encourage introspection. A burning candle, a jar of seashells or a flowering plant brings beauty and a calming vibe to your meditation space.
If meditation is on your to-do list, our spacious apartments with private balconies may be the perfect choice for you. At Madison at Stone Creek, we offer a well-equipped fitness center, indoor sauna, and many other modern amenities. Find out more about our apartments in Austin by contacting us at 855-936-0579 today!